The greatness of Debian with the optimization of Gentoo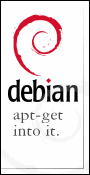 For the past few months I've been playing with
Gentoo
as my workstation OS. This after being a die hard
Debian
fan for years.
The reason I've made the switch is Gentoo
Portage
system. Being modelled after the BSD ports system I LOVE it. Also, it's other plus point is being able to compile stuff optimized for you system.
Debian I love for it's clean & lean(for linux anyway) system & apt-get. While apt-get isn't as extensive as ports, it's much more convinient to use, and keeps your system up to date very well.
Well I have now seen the light. There's now an app called
apt-build
. For more information check out this excerpt:

Since the arrival of the very first versions of Gentoo, some people have announced that "Debian is good, but that's not optimized for [distribution in which you run make all the time]". And this is wrong, you are free to recompile software you use on Debian, using the apt system. Downloading a tarball, uncompressing it, running configure scripts and make install, is an easy task for every Linux user, but this is not adapted for the Debian package management system. Stow was a way which worked without too much effort, but compiled programs were not really integrated in the apt dependancies. The ultimate solution is to use apt-build to recompile a software already packaged for Debian.

The article further explains how to configure and use the said app. If this really works this well I think I'll be moving back to Debian soon, as Gentoo sometimes still feels a bit too messy to me.